Crochet goddess faux locs or goddess faux locs are locs with wavy or loose ends, this was coined by Dr Kari when she created them. These locs have been rocked by celebrities such as Meagan Good and Lisa Bonet. The goddess faux locs hairstyle has never been easier to achieve.
Before the wave of crochet braids particularly crochet faux locs, those who desired faux locs would have to be willing to have their hair done for a long 8 hours or so to achieve this hairstyle. The bohemian or gypsy goddess locs is done by adding the extra step of adding bulk hair to create the desired look.
Intro
In this tutorial you will learn how to do goddess locs with crochet braids, how to do individual crochet faux locs and how to create goddess locs without bulk hair.

Tools Required
Scissors
Tail Comb (or any comb to section hair)
Hair Jewellery (optional)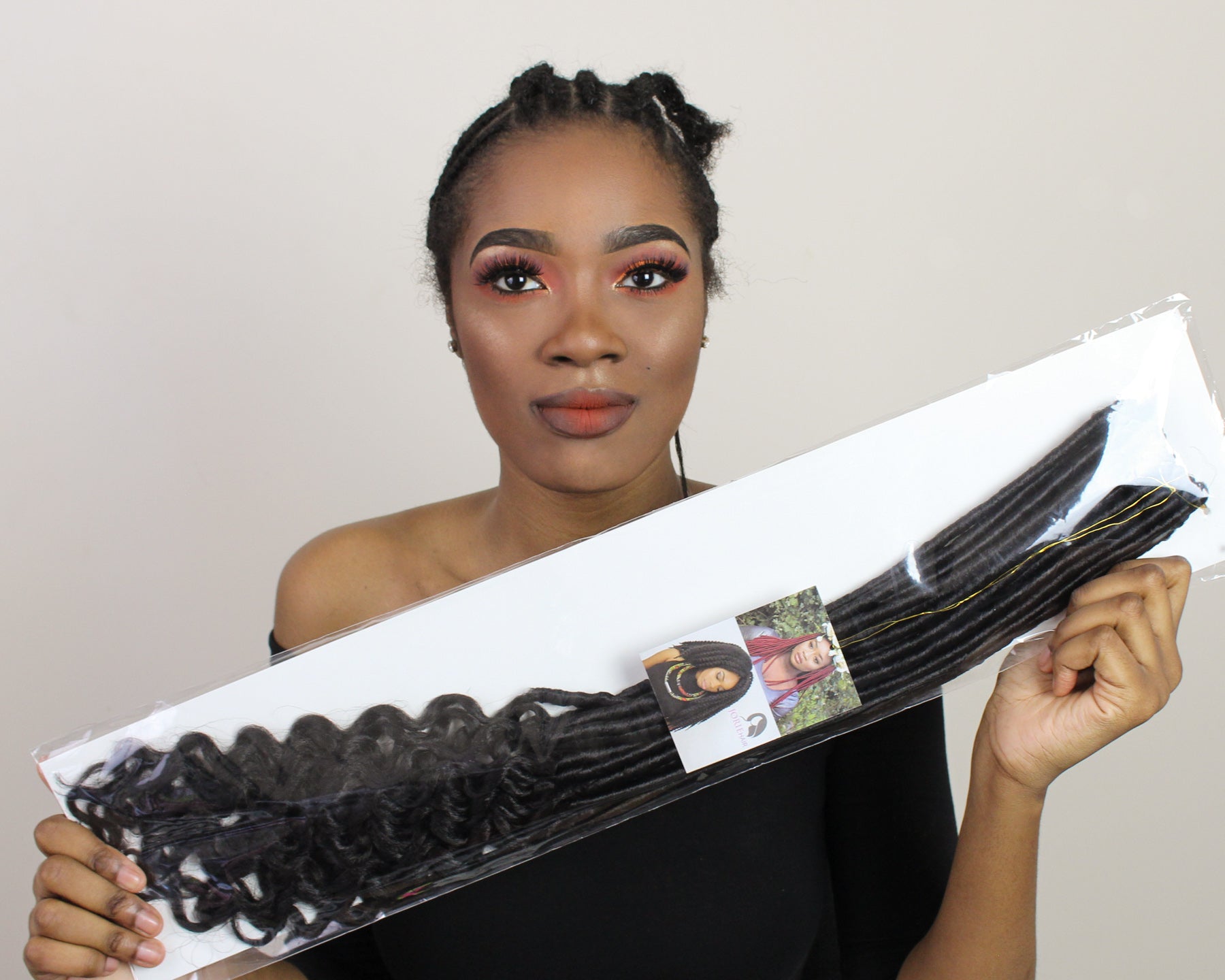 Firstly decide on your cornrow braid pattern for your crochet faux locs. Once done, leave out some hair for your goddess faux locs part and create 20 individual braids with your hair. These are to become your individual goddess faux locs. Attach your crochet faux locs to your cornrows as you would normally up until you reach your individual braids that you left out.
Once you have reached the individual braids left out, you are now going to attach the faux locs. This is done by pulling the faux loc through the base of the braid to attach and then pulling the faux loc and the braid through the loop.
Then wrap the crochet goddess loc around the individual braid until it is hidden. For more information on how to do this please check out our tutorial on how to do individual crochet braids.
When all of the goddess faux loc is attached onto the hair. This step just requires you to cut the wavy hair from the ends of the crochet goddess loc. Then crochet this piece onto the hair where you see fit.
In the previous step the wavy part of the crochet faux loc was cut off and you are now left with just a loc. All you have to do is unravel this loc and also crochet it to your head. This step and the previous step can be repeated until you get your desired look (the model is even smiling, cuz she knows her hair is going to be fleeky!)
So there you have it, gypsy/ bohemian goddess faux locs without bulk hair!
Photoshoot Team

Hair Styled by @dphairkloset
Model @trishperry_
Shop Crochet Locs