How to do Passion Twists on Natural Hair
In this tutorial you will learn how to do passion twists on natural hair. This method is easy but it is just one of many methods that you use. This is a great method to learn how to do passion twists on natural hair. You can do this on yourself as It involves having to pre-section and braid your hair a little bit. But it does come out fabulous when finished.
This method is perfect for all hair types whether you have natural hair. With any curl pattern such as 3A – 3B or 4A to 4C , or even if your hair is relaxed (permed) or silky. The method I will be showing you today will keep your hair in place. Which prevents the passion twist hair from slipping. It will also allow you to twist from the base of the hair rather than braiding the passion twist hair and then twisting. This tutorial showing you how to do passion twists on natural hair does not require any rubberbands!
Finished Result
The image below shows finished results of my passion twists. Mind you I do have 4C natural hair, it wasn't blowdried or straightened for this install. I just stretched my hair the night before to prep for my install. Stretching your natural hair makes it easier to comb and work it, especially if your hair is super thick like mine.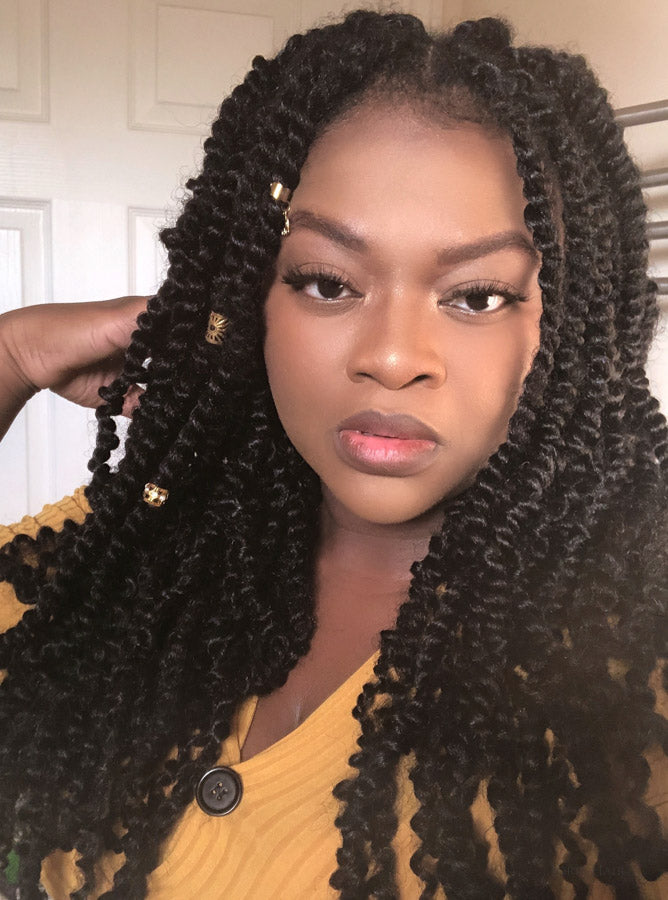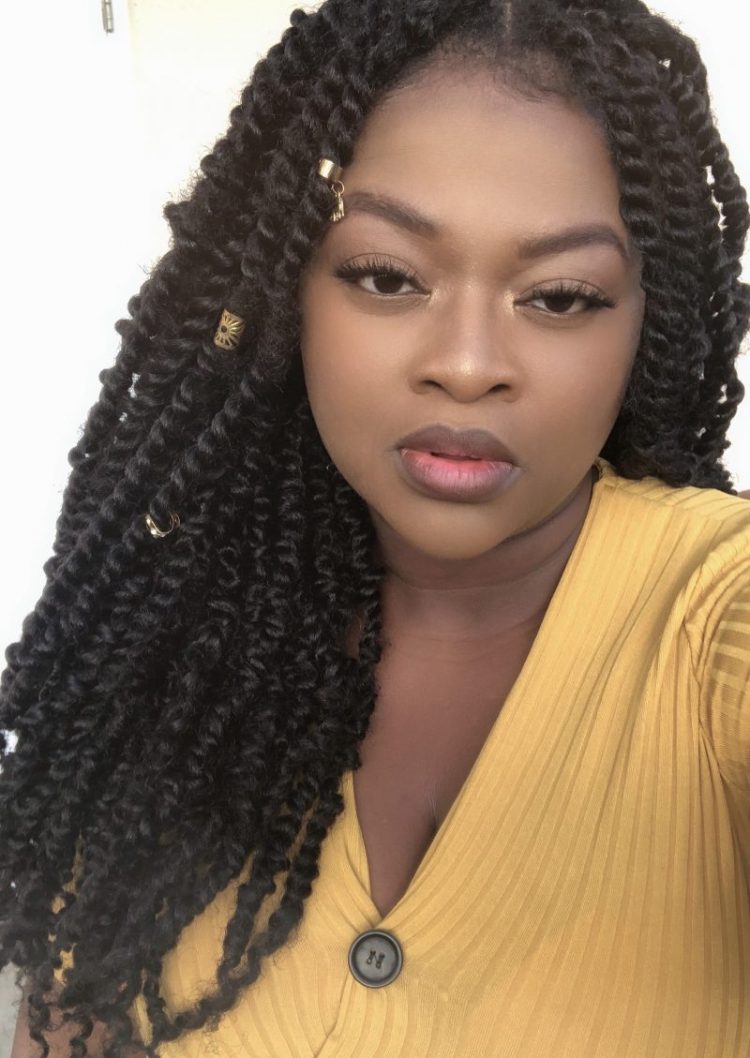 Tools Required
Passion Twist Hair in Water Wave

5 packs by Jorie Hair (I used textured Passion Twist Hair as my hair is natural and I did not want a silky look, but feel free to use other brands of Passion Twist Hair).

Crochet Latch Hook

(Although we are doing individual passion twists, this is still required for this method of install).
Hair Mousse (It is highly recommended to set the hair and define the ends. I used My Hair Matters Volume Boost from Sainsburys which I have found to work better than other brands.)
Hair Gel or Edge Control (optional)
Prepping Passion Twist Hair
The first thing you need to do with your Passion Twist hair is prep it, by fluffing the hair. The hair I am using is quite easy to fluff. You simply run your fingers through it until it looks like the image below. I avoid fluffing the ends of the hair as I like the wave pattern at the tips of the hair. By only fluffing the middle section you get more defined ends.


Sectioning Hair
Section your hair into square boxes like the below or triangle or just random parting. It is probably best to section your whole head first to get it out of the way before attaching your hair. Plait the section (only the base) like the below. The reason we plait just a little of the hair is to hold the passion twist hair when we attach it. This method prevents slippage and allow you to grip the hair easily. It is especially handy if your grip game is not professional level yet, it also means that you do not have to braid the passion twist hair in the beginning.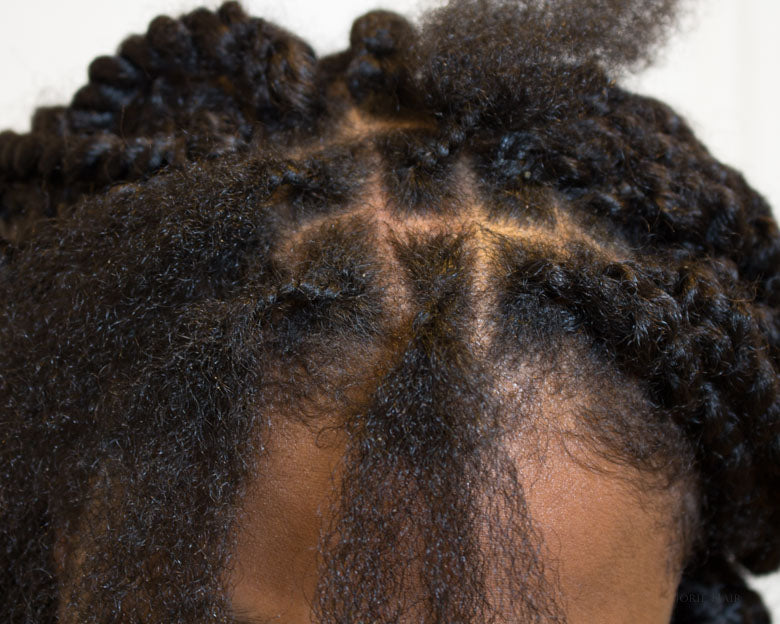 Attaching Passion Twist Hair
For this step you will need your latch hook. You will attach the passion twist hair through the base of the braid like below. Then pull out one end of the passion twist hair.
Twisting Passion Twist Hair
Twisting the Passion Twist Hair is easy now that the hair is attached to your plait as it stays in place. You simply twist the passion twist hair around your own hair until you can no longer see the plait you did previously (this is why I said only plait the hair a little). Once done you split your hair into two and twist with the passion twist hair.

Setting Passion Twist Hair
Once you have finished your install, you can set your passion twists with setting mousse. Although this step is not mandatory it is advised as your twists become even more lush. It also helps define the ends of the hair and keeps it frizz free. You can use hair mousse to refresh your passion twist anytime you want defined twists or after washing the hair. My favourite hair mousse to use for passion twists is 'My Hair Matters Volume Boost' from Sainsburys. As I am in the UK this is very easy to get, it is only £1.50 and I personally feel like it works better than other name brands. For those in other countries such as the US, feel free use any hair styling mousse that works for you.

The particular hair I used for this install is perfect for natural hair. But feel free to use other brands or silky passion twist hair. Feel free to browse my hair shop for passion twist hair UK or worldwide. Although we are based in the UK, we ship worldwide.

Shop the Look